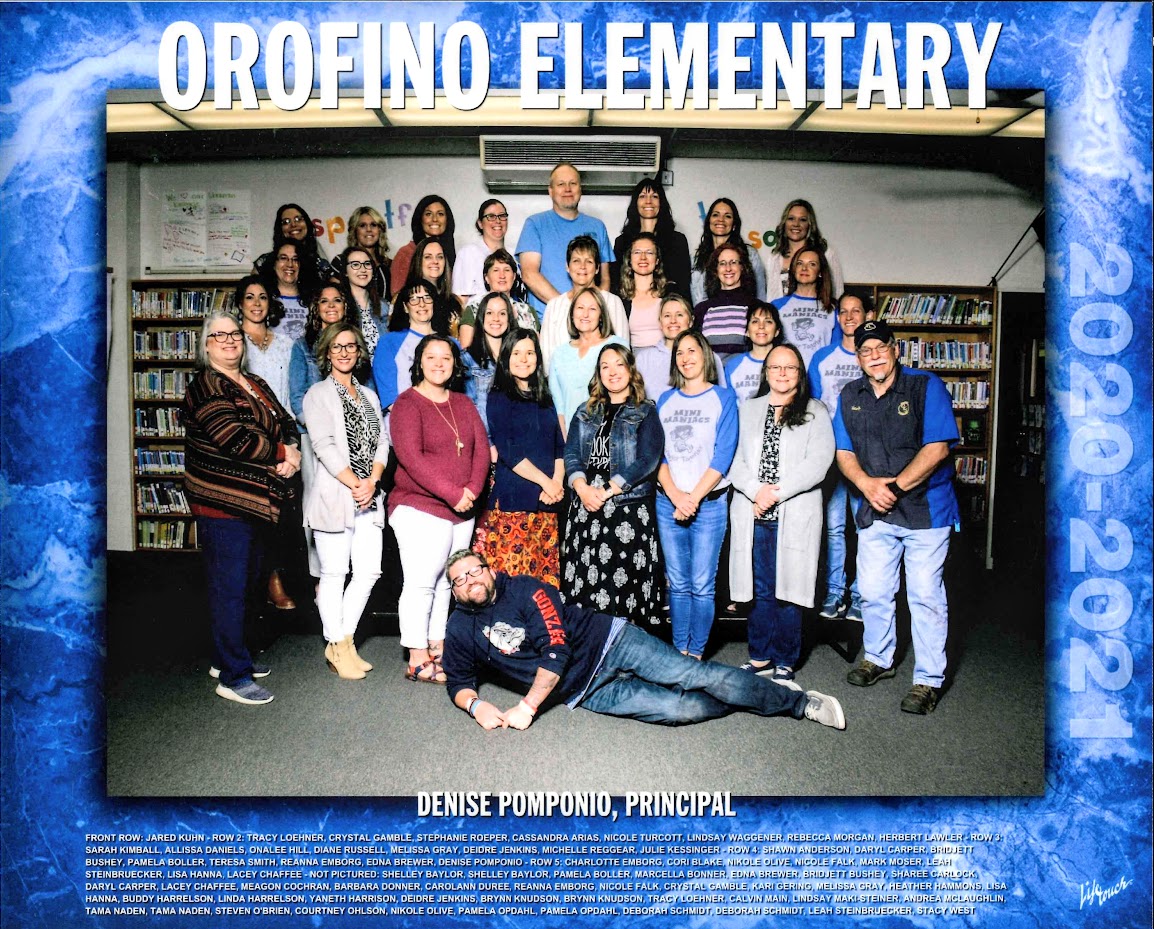 Welcome to Orofino Elementary School
VISION STATEMENT
"Mini-Maniacs are Focused on Learning!"

Orofino Elementary School's Vision is to create a challenging learning environment that encourages high expectations for success through development-appropriate instruction that allows for creativity, problem solving, individual differences, and learning styles. Our school promotes a safe, orderly, caring, and supportive environment. Students' growth and self-esteem are fostered by positive relationships with students and staff. We strive to have our parents, teachers, and community members actively involved in our students' learning.

CORE BELIEFS

ALL STUDENTS CAN LEARN AND EACH IS A VALUED INDIVIDUAL WITH UNIQUE PHYSICAL, SOCIAL, EMOTIONAL, AND INTELLECTUAL NEEDS. STUDENT LEARNING, IN THE CORE ACADEMIC CURRICULUM, IS THE PRIORITY OF OROFINO ELEMENTARY. SCHOOLS DEVELOP CONFIDENT, SELF-DIRECTED, LIFELONG LEARNERS WHO WILL BECOME RESPONSIBLE CITIZENS IN TOMORROW'S WORKFORCE AND COMMUNITY. SCHOOLS TEACH TO, AND MODEL A UNIVERSAL SET OF BASIC VALUES: HONESTY, SELF-DISCIPLINE, RESPONSIBILITY, RESPECT, AND A STRONG WORK ETHIC. SCHOOLS PROVIDE A SAFE, POSITIVE, ORGANIZED SETTING WITH CLEARLY DEFINED BEHAVIOR EXPECTATIONS. PARENTS ARE THE FIRST AND PRIMARY TEACHERS. THEY ARE RESPONSIBLE FOR THEIR CHILDREN'S BASIC NEEDS AND VALUES. ALL OROFINO ELEMENTARY EMPLOYEES ARE EDUCATIONAL PROFESSIONALS, RESPECTED FOR THEIR SKILLS AND COMMITTED TO STUDENT LEARNING. THEY ARE ESSENTIAL TO THE ACHIEVEMENT OF THE SCHOOL'S MISSION. THE COMMUNITY AND THE SCHOOLS ARE REFLECTED IN EACH OTHER. MUTUAL SUPPORT, PARTICIPATION, AND PARTNERING ARE NECESSARY.
*Important Announcement*
If you are missing some items from your t-shirt fundraiser order. We ran out of shirts and sweatshirts and had to order more due to your overwhelming support! Your missing items will arrive on the last day of school and I will send them with your student. Some items are out of stock with the supplier so we may have to make substitutions. We will call you if that pertains to your order. Please be patient with us as we get your remaining items. We sold 200+ shirts and sweatshirts this year and it has been crazy. Please feel free to email me at falkn@jsd171.org with any questions you may have or if you have an incorrect item.
Thank you again for your support!
Mrs. Falk
Mrs. Boller
Mrs. Knudson